Go back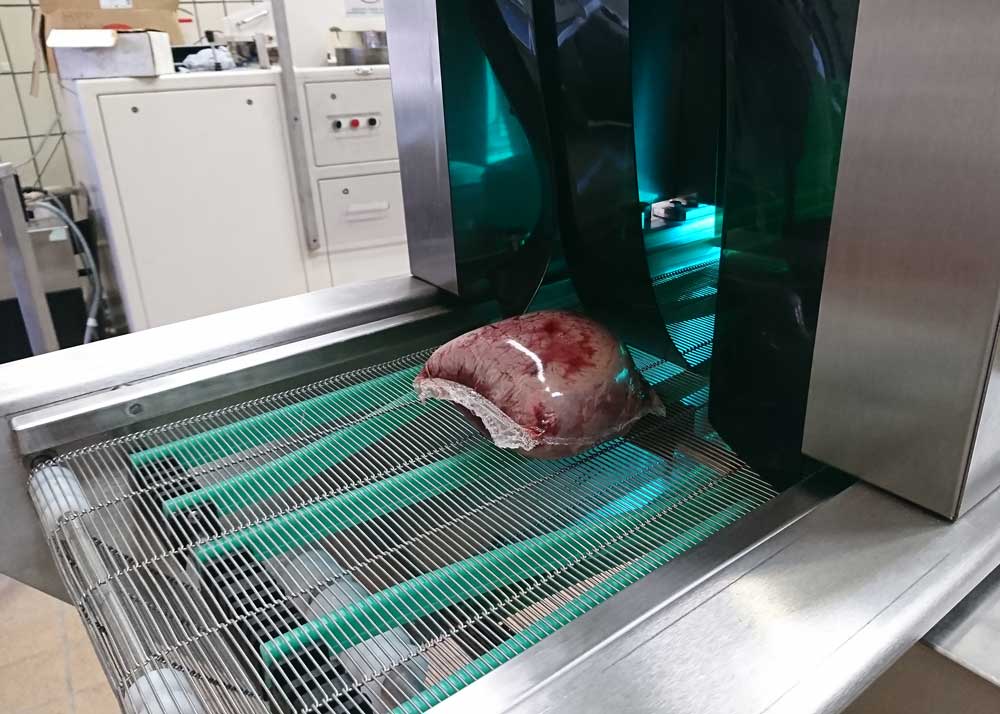 UV-C Microbial meat reductions – In-pack topside beef
Cuts of topside beef were inoculated with Listeria monocytogenes before being vacuum shrink wrapped and treated with various doses of UV-C iradiation to determine the microbial reduction.
Purpose
UV-C treatment of meat in pack can potentially increase the safety of food with minimal risk of post process contamination. The trial assessed the feasability of UV-C for in-pack decontamination. The lowest dose for maximum microbial reductions was assessed.
Main conclusions
No microbial reduction was achieved on topside beef joints for dosages up to 160 mJ/cm2.
The surface of the meat isbelieved to be facilitating the Listeriadue to blood potentially blocking access to the UVC as well as crevices on the rough, uneven surface, shielding the microorganism. The cut surface may also allow the microorganisms to migrate away from the cut surface.
Methods
Topside beef joints were purchased from a UK food processor. The joints were cut to obtain 4 –5 samples per joint, with a average weight of around 0.8 kg per sample. The beef was dip inoculated with an initial load of around 7log CFU/100 ml of L. monocytogenenes. The beef was then vacuum packed shrink wrappedby exposing the packaging to 85°C for 2 sin UV-C transmisable packaging (around 65% transmission).
The packaged beef was then passed through a UV-C tunnel giving UV-C doses of 40,80,120 and 160 mJ/cm2inside the pack with 5 relicates per dose and 5 control samples.The level of microorganims on the treated beef were compared to the control samples to determine the log reduction achieved.
What was investigated/ examined/ measured
The average microbial reduction achieved for each UV-C dose.
Population of L.monocytogeneneson treated beef (dip inoculation)
40 mJ/cm2–0.01 ±0.03 CFU/100 ml reduction
80 mJ/cm2–0.03 ±0.05 CFU/100 ml reduction
120 mJ/cm2–0.00 ±0.01 CFU/100 ml reduction
160 mJ/cm2–0.00 ±0.00 CFU/100 ml reduction