Go back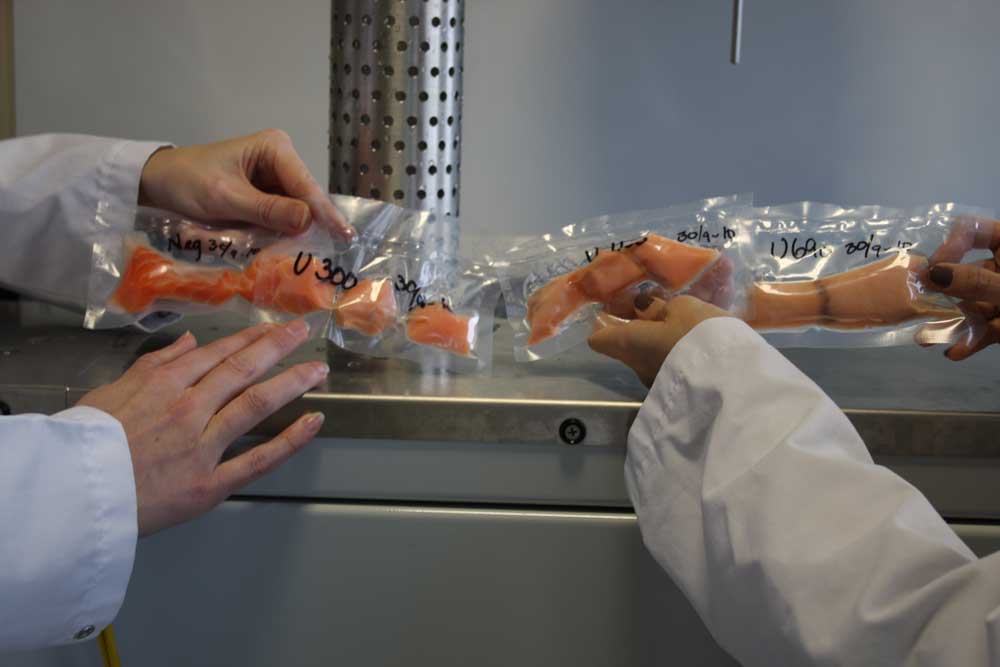 Packaging when using high pressure
When food products are subjected to extreme pressures, the volume decreases as a result of the pressure applied (corresponding to the compressibility of the product). A corresponding expansion occurs when the pressure is released. It is therefore essential that the food is packed in airtight packaging that can withstand changes in volume.
The product itself may experience a volume reduction of up to 15 percent. This means that the packaging must be sufficiently flexible to withstand a 10%-15% 'squeeze' (mechanical stress) as a result of the high pressure.
The packaging must also be able to return to its original shape and size without any changes occurring to the seal or barrier properties.
Well suited
Sous vide bags and plastic bottles are well suited as HP packaging. Glass and metal (canned goods) are unsuitable, but metal foil used in tubes is suitable.
Regardless of the packaging material one chooses, it is important to have the least amount of headspace. This is to prevent the container from collapsing or the packaging becoming punctured. A filling ratio of at least 90 percent is recommended, preferably higher. 
The geometry of the packaging is not important for the processing itself because the entire product is immediately exposed to pressure. However, it may be important to use a type of packaging that provides an optimal filling ratio, as the products are placed in cylindrical baskets and then sent into the HP machine. 
Packaging that is impermeable to oxygen and non-transparent has been developed to retain the freshest possible colour and flavour of certain HP products.
Plastic
Plastic materials are often used as packaging material for HP products due to their excellent flexibility, elasticity and water barrier properties.
There are many types of polymers that can be used, such as PET, C-PET, PP, HDPE and EVOH. Since most HP products are packaged in plastic, many people try to use recyclable materials.
Vacuum, skinpack and modified atmosphere are types of packaging systems that are used. Labelling may be applied to the containers both before and after processing and different solutions are used.