Go back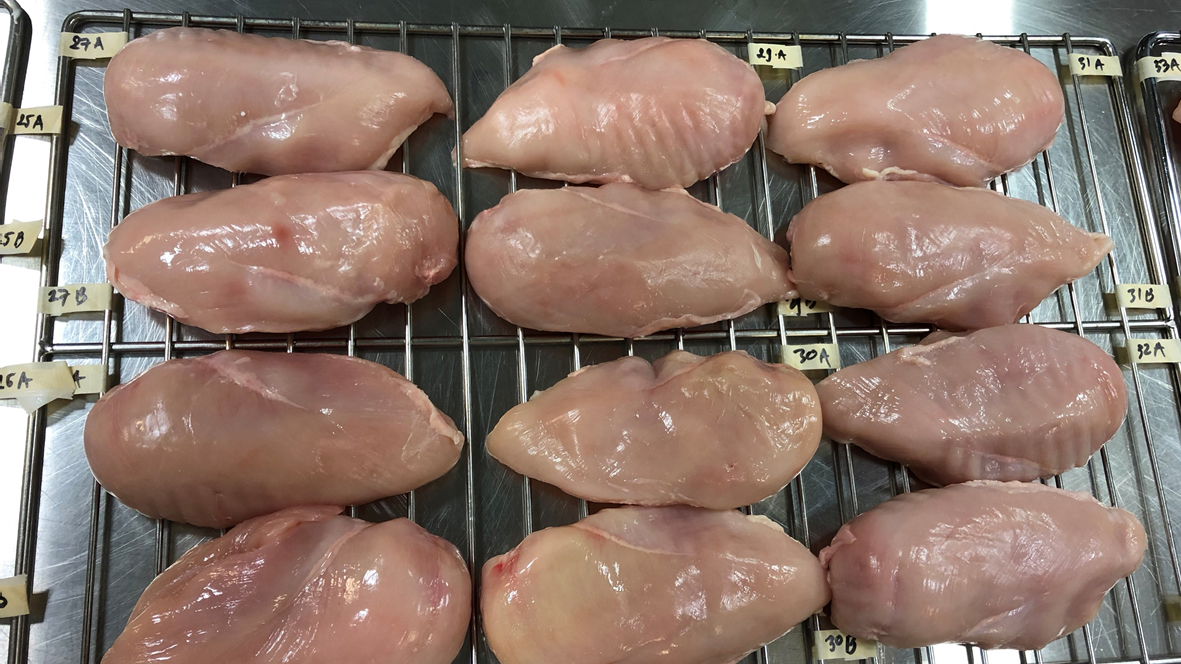 CO2-saturation of chicken
Chicken fillets that were saturated with CO2 before being processed with high-pressure, microwaves, Modified Atmosphere Packaging (MAP) or vacuum-packaging have a longer shelf life than chicken that has not been processed using this pretreatment.
Main conclusions 
Slices of chicken that were processed using high-pressure and high-pressure in combination with SGS-pretreatment achieved the longest shelf life. These samples had approximately the same colour, texture, loss of fluids, pH and lipid oxidation as the reference sample.
All the SGS-pretreated samples were firmer and had a lower pH than the reference chicken sample.
Processing with HP and MW resulted in increased shelf life compared to MAP, which is the process the current commercial product employs.
Purpose of the trial 
SGS (soluble gas stabilization) is a method of saturating a product with CO2 to prolong shelf life. Long shelf life is an important factor in reducing food waste and in gaining a more sustainable production process. An aim is to increase the shelf life of chicken without compromising the quality of cooked slices of chicken by using vacuum, MAP, HP and MW methods alone or in combination with SGS-pretreatment. The trials have revealed that the tested technologies include both advantages and disadvantages. An important aspect has been to investigate whether shelf life can be increased without compromising the quality and food safety of the product.
Methodology
The trial slices of chicken were processed using eight different methods and were compared to a reference product that is produced using current methods.
Less than two hours after slaughter, the chicken fillets were baked in an oven and then refrigerated.  
Half of the fillets received overnight SGS-pretreatment. Subsequently, both chicken with and without SGS-pretreatment were cut into slices and underwent the additional processes:
MAP (Modified Atmosphere Packaging of 40% CO2 and 60% N 2)
VAC (vacuum-packing where 93% of the air is removed)
HPP (high-pressure processing at 600 MPa for two minutes)
MW (microwave heating with overpressure at 1000 W for 45 seconds)
After processing, the slices of chicken were stored at 4°C. Analyses were performed before and after processing and throughout a storage trial of up to four months.
This was examined
The various chicken samples, in addition to the reference product, were examined according to the following six parameters: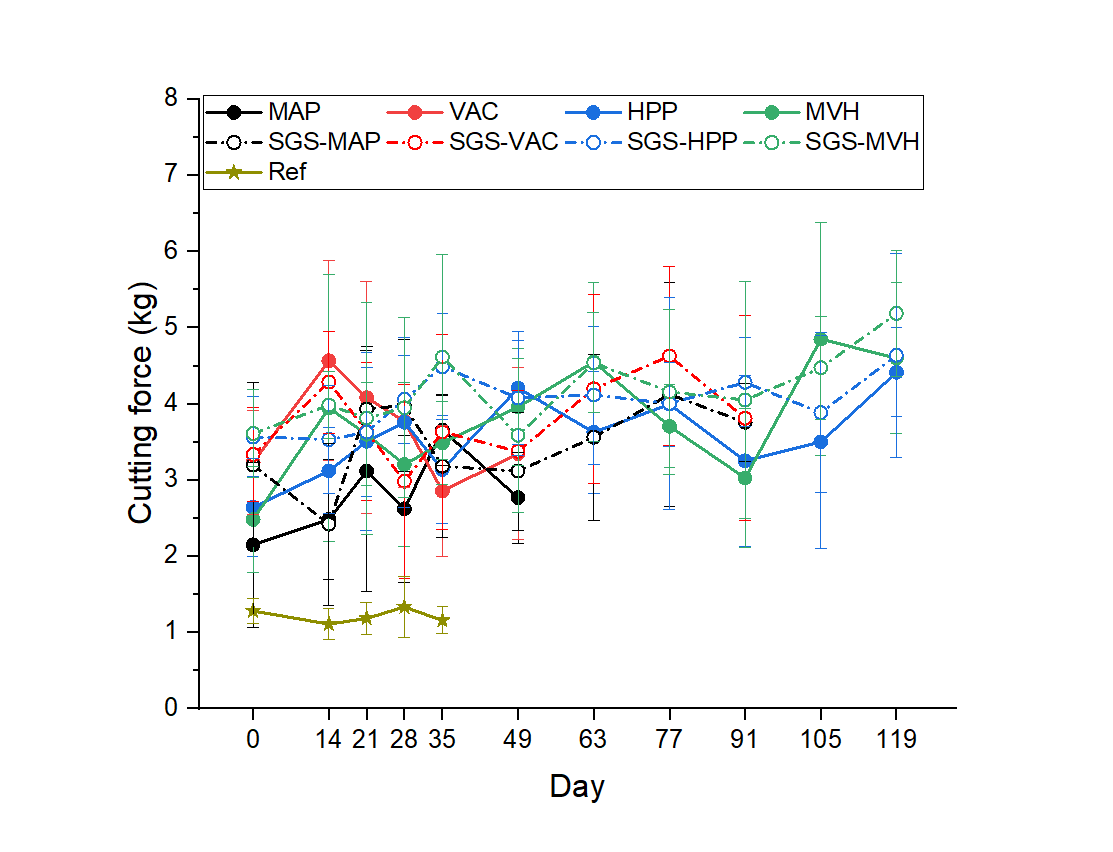 Texture
Processing with HP and MW resulted in a slightly firmer texture compared to the reference product.
Processing with VAC without SGS, HP and MW resulted in a slightly firmer product compared to the slices of chicken packaged using MAP.
The firmness increased slightly with storage time.
Colour
No noticeable colour difference between the different processing methods.  
Instrumental colour analysis showed more whiteness in chicken that received SGS-pretreatment compared to samples that didn't receive SGS-pretreatment during the first 14 days.  
The redness decreased with storage time.
The yellowness increased with storage time.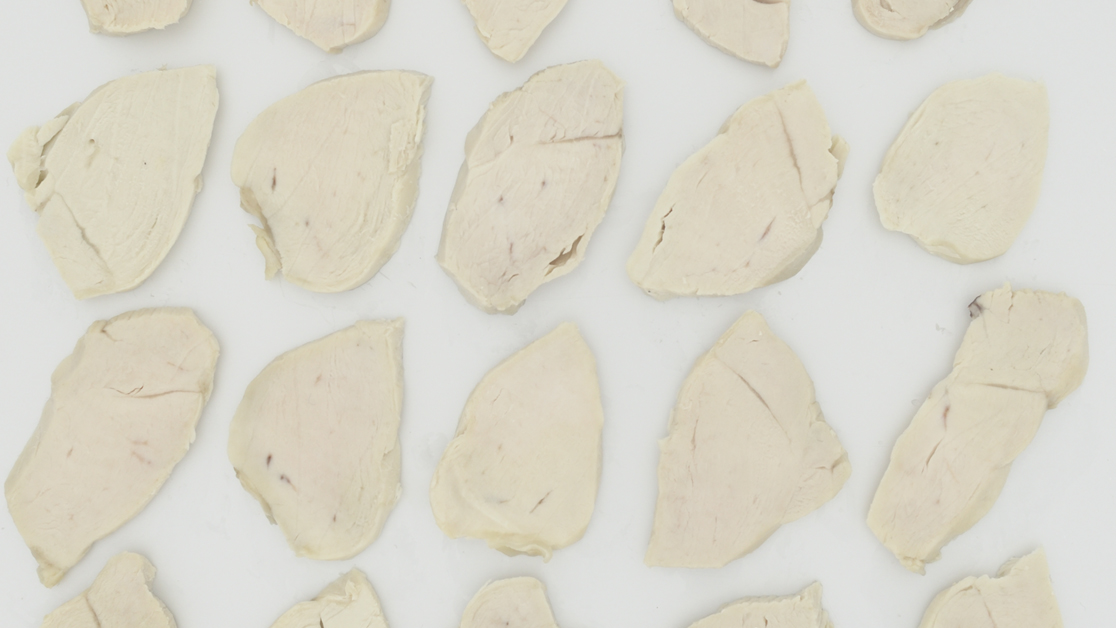 Loss of fluids
Loss of fluids increased with storage time.
pH
The pH decreased with storage time.
The pH of the reference sample was higher compared to the processed chicken product, and increased from day 21. 
Microbiology
Chicken samples packed using VAC and MAP resulted in the shortest shelf life.
The HP and SGS-HP processes were most effective in increasing shelf life.  
E. coli, Campylobacter and Listeria were not detected in any of the samples
Rancidity
Rancidity increased with storage time